TBAA Director Sister Marijon Binder's radio interview with pet expert and best selling author Arden Moore
In Chicago, a dedicated group led by Sister Marijon Binder have been finding homes for cats and aiding seniors for more than three decades. Tune into this special episode of the Oh Behave Show as host Arden Moore tours the amazing Touched By An Animal house (home to more than 70 cats) and delivers the keynote address for the group's annual spring fundraiser.  Discover the power of meow and love for all.
Listen to the full interview here >>
By Arden Moore In Oh Behave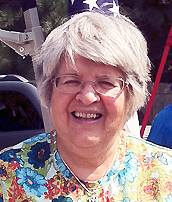 Sister Marijon Binder arrived in Chicago from her California convent in 1976.  Her mission at the time was to write children's books.  Over the coming years her mission changed as she became the founder of Touched by an Animal and Cats-Are-Purrsons-Too.  These organizations are unique.  They help the elderly keep their companion animals as long as possible and take in cats that need long or short term homes when their people are hospitalized or enter nursing homes.
The following excerpt from Jenny Wohlfarth's article "Tossed and Found" in the December 1996/January 1997 edition of Pet Life tells some of this story:
"All my elderly neighbors had pets," explains Sister Marijon, "and one of their biggest problems was that they couldn't downsize, move into a nursing home or retirement community or visit family in other cities because they couldn't stand to leave their animals.  Their animals were their family."
Sister Marion began helping her neighbors in their quest to save the scores of homeless cats in the community . . .
One by one the little creatures trickled into the nun's home.  Then she organized her elderly friends into a brigade of tabby caretakers.
"We go into the homes of the elderly to walk their dogs, clean their cats' litter boxes or change a bird cage, and we become a crucial part of their social networks," says Sister Marijon.  "These animals are like a lifeline for these people."
Cats-Are-Purrsons-Too, which Sister Marijon says is literally funded with pennies from heaven, also recruits widows and widowers as foster parents for cats that need special attention.
The street the Sister has chosen to travel has not been without its shards of glass, its potholes and detours.  When Sister Marijon was just getting Cats-Are-Purrsons-Too on its feet, she was called back to her convent in California.
"I wanted to go back, and tried for a year to make arrangements, so that I could. but too many elderly people were relying on me," explains Sister Marijon, who eventually became disconnected from her longtime religious community.  "I simply felt in my heart that God wanted me to continue taking care of these people and animals.  I could not believe that He would want me to abandon them all again."