Our Mission
Touched By An Animal preserves the nurturing bond between people and their companion animals by helping the Elderly and others maintain this loving relationship and by providing lifetime homes for cats, when needed, in our home, where Cats-Are-Purrsons-Too.
Our Core Beliefs
To each person TOUCHED BY AN ANIMAL it's clear. God's message:
Unconditional love makes life's meaning more dear
To honor that bond, to rejoice in that truth is why we are here.
But we need to be touched by Angels like you
To enable us to continue the work that we do
For people, for animals, for a gentler society too.
To respond to each need we want to be there
Please help us help them – Please show that YOU CARE!
Networking empowers exponentially. Spread the message of what we do!
What are we all about?
Our UNIQUE MISSION serves to aid companion animals whose persons are both willing and grateful to have and keep them but who may need assistance in the form of food and litter donations, vet care expenses, and boarding. Many of the people we help — the elderly, the homeless, or those who are in transition (both financially and geographically) — fall within the underserved (and sadly, often forgotten and dismissed) population. Their companion animals are in need of temporary and/or lifetime homes, veterinary care, and nutrition.
Our wheelchair elevator needs replacing! The wheelchair elevator allows our elderly and disabled clients visit their companion animals in our home. Help us achieve our goal of buying a new wheelchair elevator by making a special donation.
Recent News
PadMapper has over half a million active pet-friendly apartments for rent across the U.S. and Canada. Here are our specific...
Read More
Positive Health Wellness will be doing a story on pets and wellness featuring TBAA. Click the link to learn more!...
Read More
Upcoming Events
Join us for our Spring Books and Baskets Benefit Sunday, April 22nd, 2018 from 11am – 3pm at the Holiday...
Read More
Newsletters
THE CIRCLE OF LIFE revolves around LOVING, GIVING, READINESS TO RESCUE, and cycles back, gaining strength and momentum with each...
Read More
We are proud to be partners of:
Recently adopted pets and their families: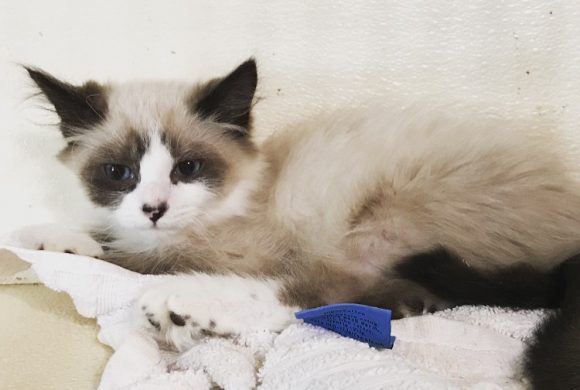 Adopted in January 2017! Sterling was one of three Siamese kittens brought to us at 4 months of age. All three...